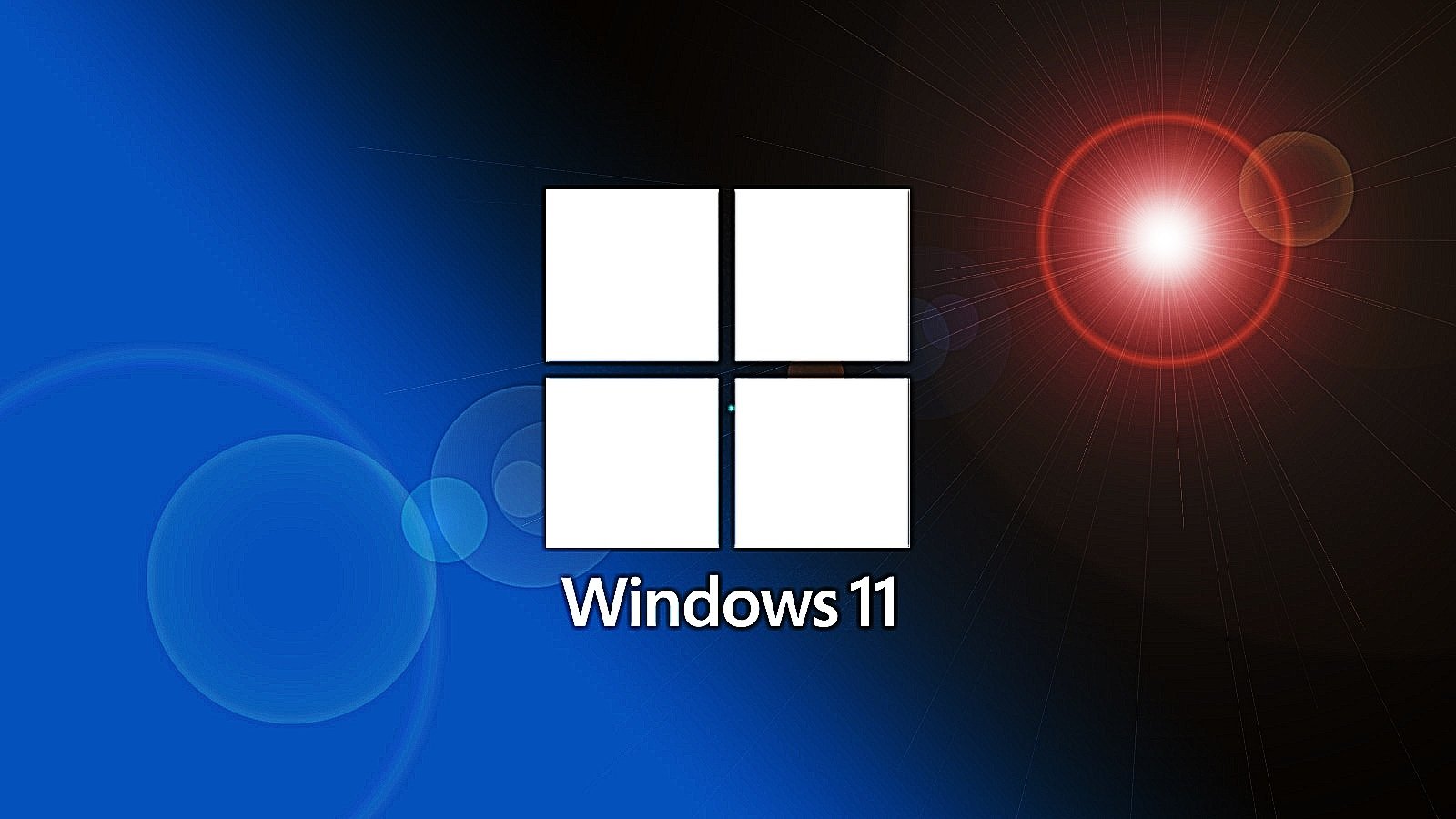 Microsoft will soon add native support to Windows 11 for controlling the RGB lighting on computer peripherals, like mice and gaming keyboards.
As a result, you will no longer have to install third-party software from a device's manufacturer, which is commonly buggy in the best-case scenario and potentially riddled with security flaws.
To make matters even worse, if you have gaming accessories with RGB lighting from multiple vendors, you will sometimes need to install a different app to control each device.
The new RBG lighting controls are currently in development as a hidden feature of Windows 11 build 25295 in the Windows Insider developer channel. 
Windows enthusiast Albacore first discovered the feature on Thursday and shared several screenshots showcasing the new capability.
"New settings for device lighting make an appearance in build 25295. Is this the beginning of the end for low quality RGB gamer gear apps?,"Albacore tweeted.
"The spec for this is from 2018 and references to the feature have been around for years. Not cancelled after all."
To enable this hidden feature, you can use Albacore's ViVe tool to run these commands:
vivetool /enable /id:35262205
vivetool /enable /id:41355275
Once enabled using ViVe, new "ambient lighting controls" settings will appear under Settings > Personalization > Lighting.
This section will list all connected RGB devices you can control, as shown below.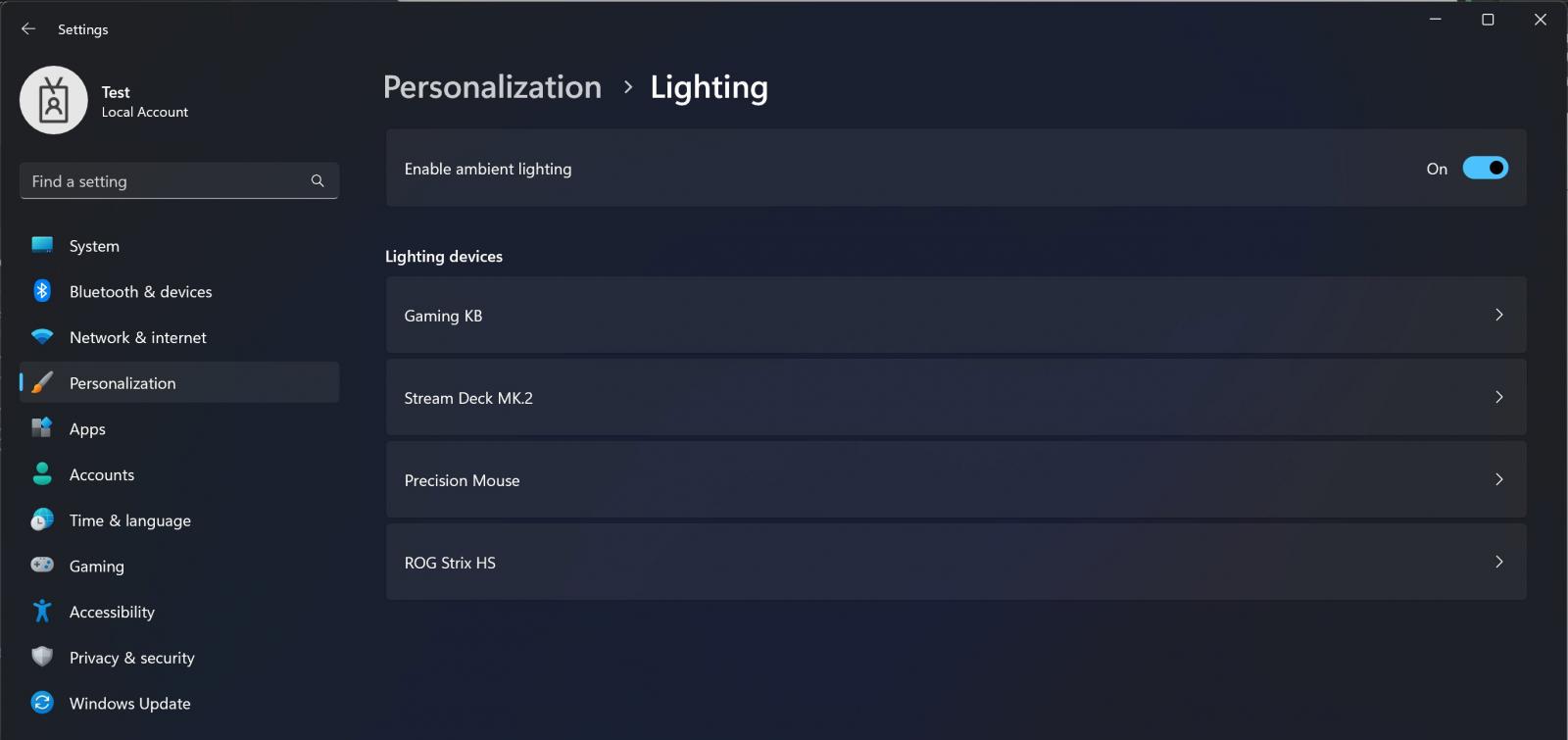 Clicking on a supported device in the list will allow you to control the brightness, lighting effect, the effect's speed, and color of the lighting.
The lighting effects include changing the RGB lighting to a solid color, blink, rainbow, or rainbow (reverse).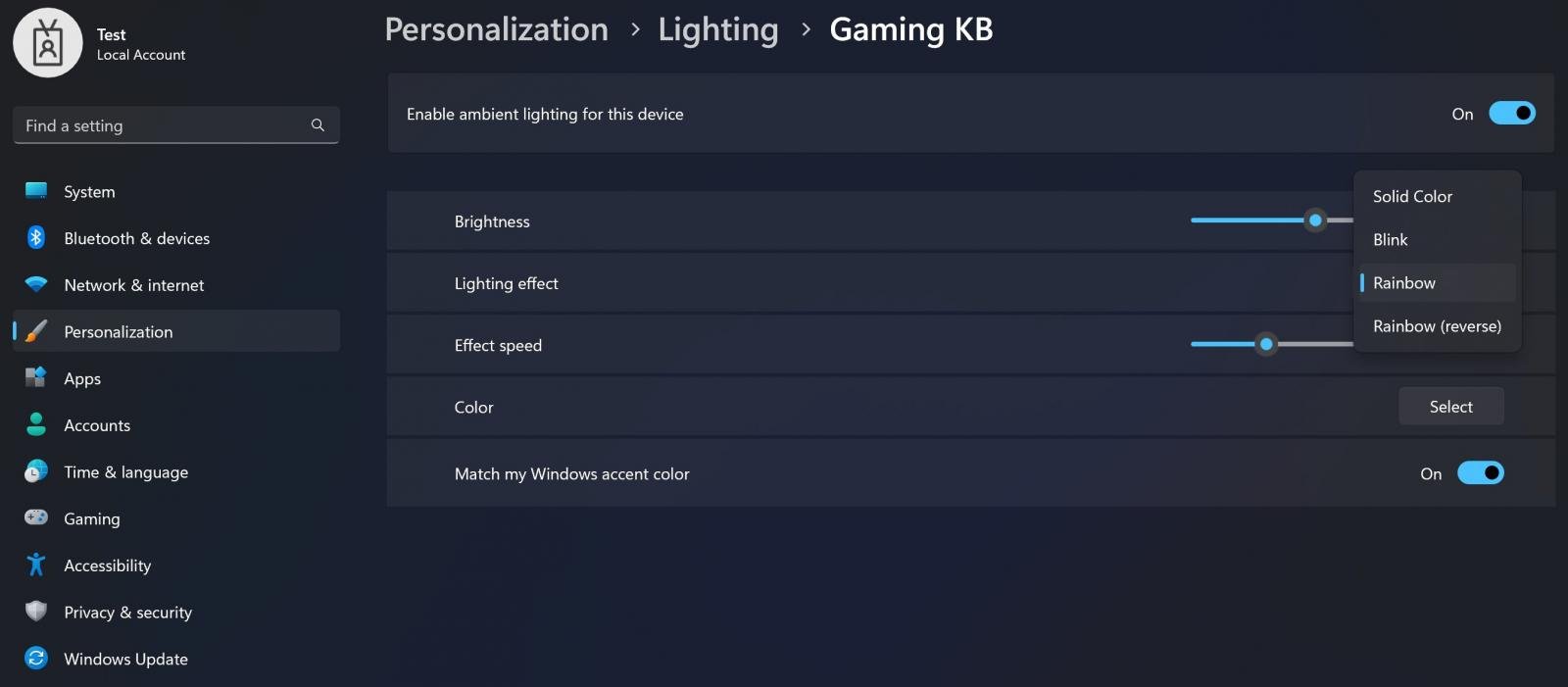 ​Last but not least, you can also configure the RGB lights of each supported device to match the Windows accent color.
Microsoft is also yet to announce officially that Windows 11 Insiders can now test the native RGB lighting support after installing the latest builds, meaning there is no guarantee it will make it into a production release of the operating system.
However, the new RGB lighting settings appear to be far into the development cycle, indicating it is likely a feature that we will see in a coming feature update.
Recently, the company announced that it started testing support for multiple tabs in Notepad and finally added a built-in screen recorder to Windows 11 through the Snipping Tool.
Redmond is also testing live kernel memory dumps in Windows 11 Task Manager, which would significantly help troubleshoot bugs and performance issues.