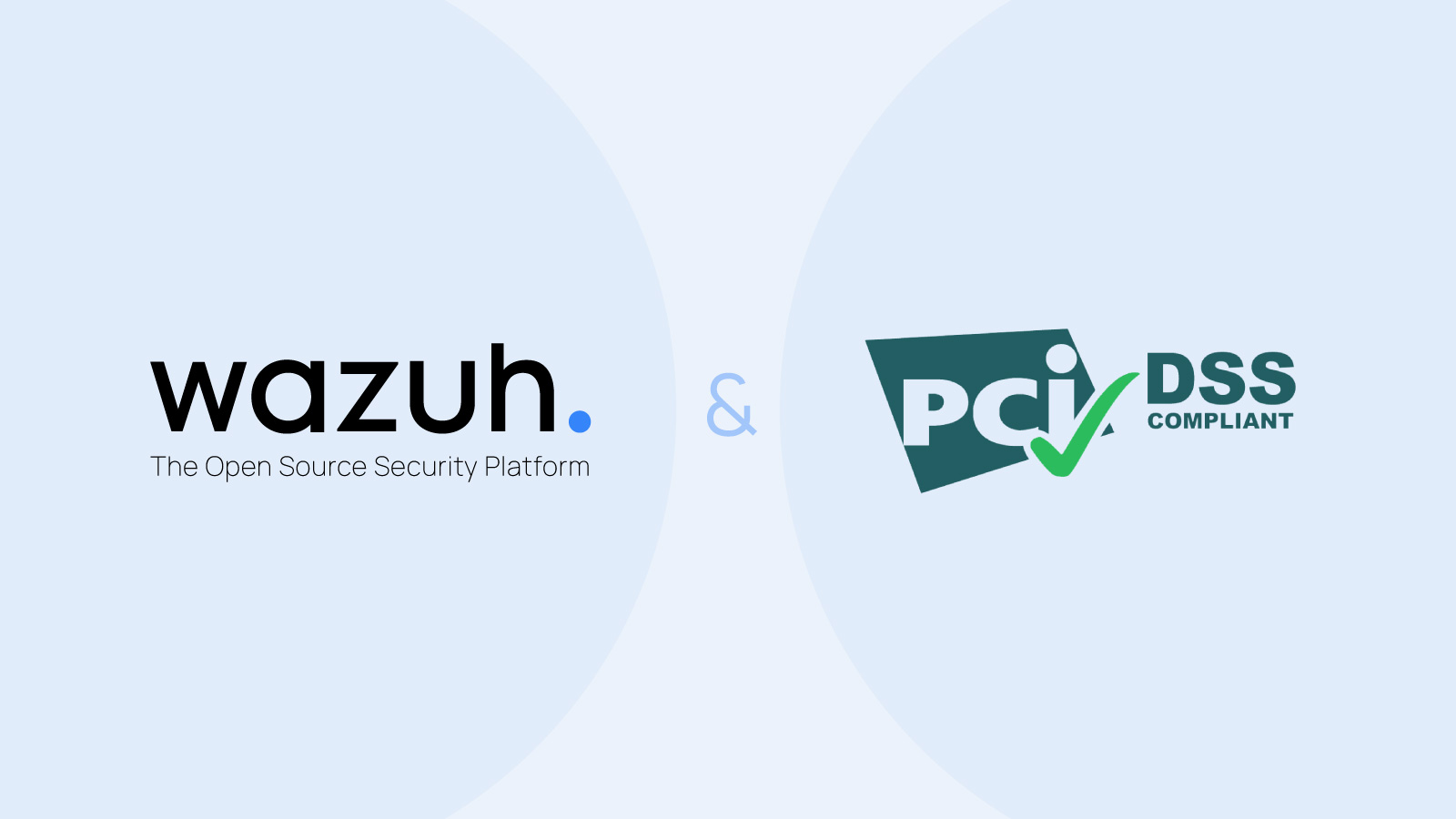 The Payment Card Industry Data Security Standard (PCI DSS) is a compliance standard that specifies security requirements to be met by organizations that process, store, and transmit card data.
This standard was created to increase controls around cardholder data and reduce fraud in organizations handling payment cards like Visa, Mastercard, and more.
Reasons organizations meet PCI DSS compliance requirements
Adhering to regulatory compliance is essential as it helps businesses protect themselves from cyber security breaches and data losses. Below are reasons for meeting PCI DSS compliance requirements:
Protection of companies and organizations from cyber security risks, threats, and data breaches.
Development of efficient and streamlined organizational processes which aid in achieving compliance.
Improves the reputation of a business with regulatory bodies and customers.
Avoidance of financial risk from fines due to data breaches or non-compliance with regulatory requirements.
Given that the PCI DSS certification is required for all organizations that handle card data, it is vital to have solutions that assist in monitoring compliance with PCI DSS requirements.
An example of a solution that helps meet PCI DSS compliance requirements is Wazuh.
Wazuh – An open source XDR and SIEM platform
Wazuh is a free, open source security platform that unifies XDR and SIEM capabilities.
It protects workloads across on-premises, virtualized, containerized, and cloud-based environments.
It helps organizations and individuals to protect their data assets against security threats and is widely used by thousands of organizations worldwide, from small businesses to large enterprises.
How Wazuh can help you with PCI DSS compliance
PCI DSS includes requirements to monitor systems and networks for vulnerabilities, malware, and configuration issues, as well as protect cardholder data from compromise. Wazuh helps implement PCI DSS compliance by performing log analysis, file integrity checking, configuration assessment, intrusion detection, real-time alerting, and automated response to threats.
In the Wazuh PCI DSS module, Wazuh offers options for you to gain visibility into events happening on your endpoint and helps you track and maintain PCI DSS compliance. Some of these options are:
Threat detection and automated response.
PCI DSS compliance visualization.
Alerts classification by PCI DSS requirements violated.
Detailed alert information.
PCI DSS compliance documentation.
Reporting PCI DSS compliance levels.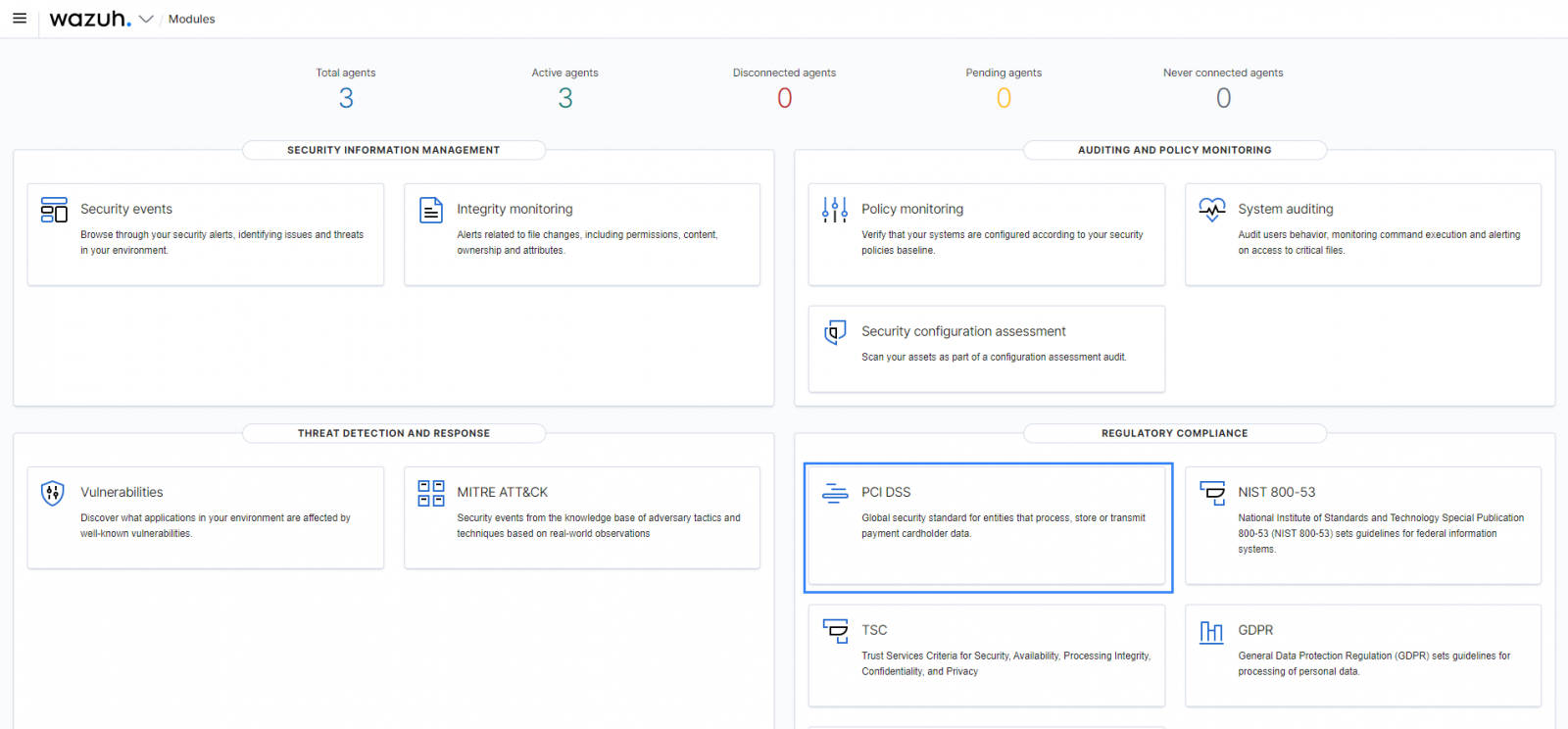 Threat detection and automated response
Wazuh performs threat detection by analyzing logs from endpoints to determine abnormal behavior. Log data is collected by the Wazuh agent on endpoints and forwarded to the Wazuh server, where the data is analyzed using application-specific rules. Then when Wazuh matches a rule, it generates an alert.
Users can respond to threats detected by configuring the Wazuh active response module. Active responses are countermeasures configured to execute when a rule of a specific ID, level, or group triggers an alert. Use cases of the active response feature of Wazuh include malware removal, IP address blocking, and device quarantining, among others.
Users can utilize the threat detection feature of Wazuh to detect threats that can potentially compromise the security of devices, thus affecting their compliance status. In addition, users can utilize the automated response feature to eliminate threats that invalidate device compliance and/or quarantine the device until remediation is complete.
PCI DSS compliance visualization
Wazuh has dedicated dashboards to monitor compliance issues. The dashboards offer a quick view of compliance violations, the timeline of PCI DSS alerts generated, the top requirements violated, the Wazuh agents on which alerts occur, and the top alert-generating agents.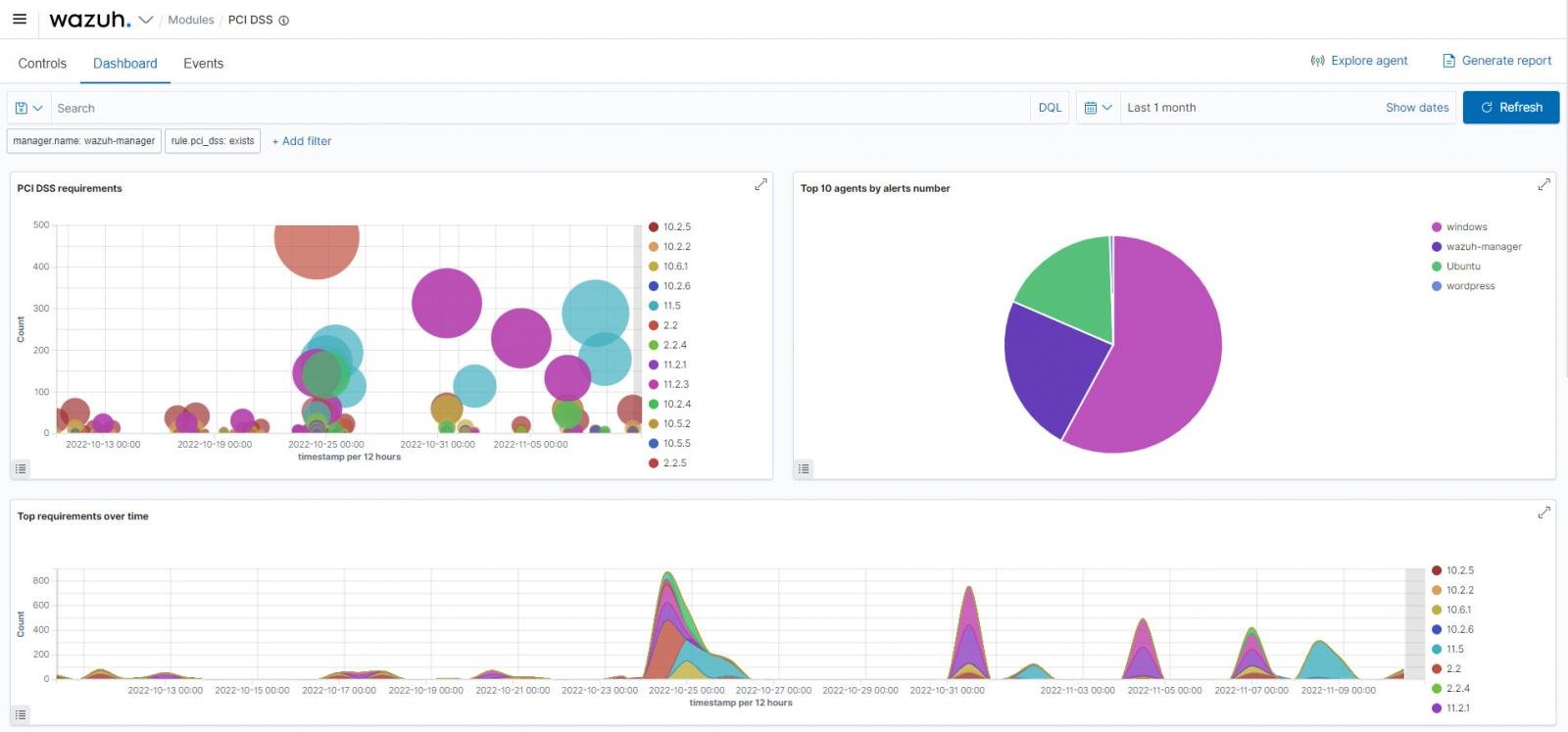 Alerts classification by PCI DSS requirements violated
The Wazuh PCI DSS module offers a "Controls" dashboard where you can see applicable PCI DSS requirements and their child requirements. This dashboard also shows the alerts generated for each requirement.
The alerts may have been generated due to a failed SCA check, vulnerability detection, or file integrity monitoring scans.
This dashboard is helpful in targeted investigations and remediations. For example, if auditors flagged a monitored endpoint as non-compliant, you can easily track the failed requirements from the dashboard and remediate the issues raised on the endpoint.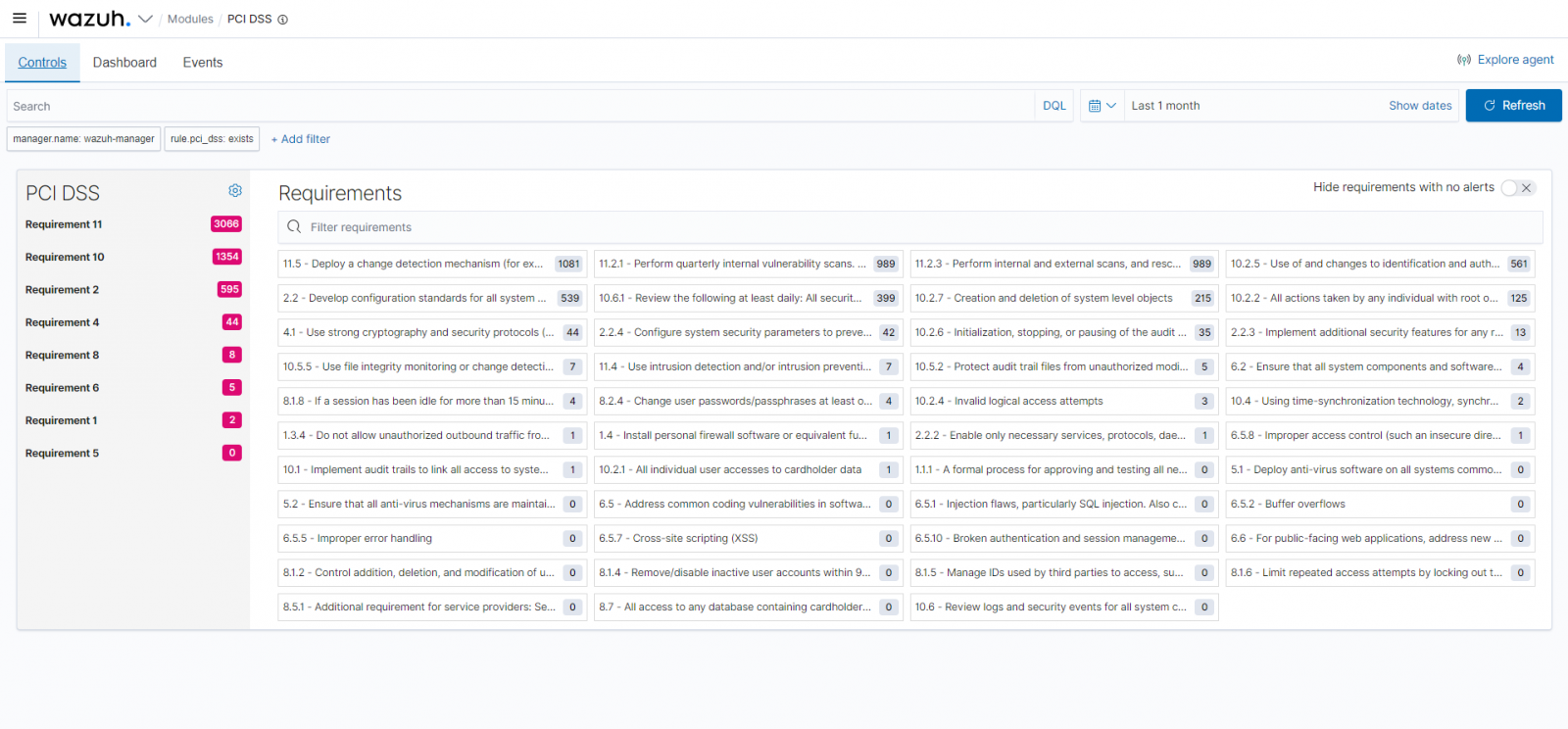 PCI DSS compliance documentation
Documentation helps determine the goal of a compliance requirement, the impact of a violation of the requirement, and ways to stay compliant. This helps individuals and organizations create and fine-tune policies geared toward staying secure and compliant.
The Wazuh PCI DSS module has an information section for each requirement. This section details the goals of the requirement, its description, and events on endpoints related to the requirement.
It helps users to determine the actual details of the requirement violated, thus saving time and improving compliance activities.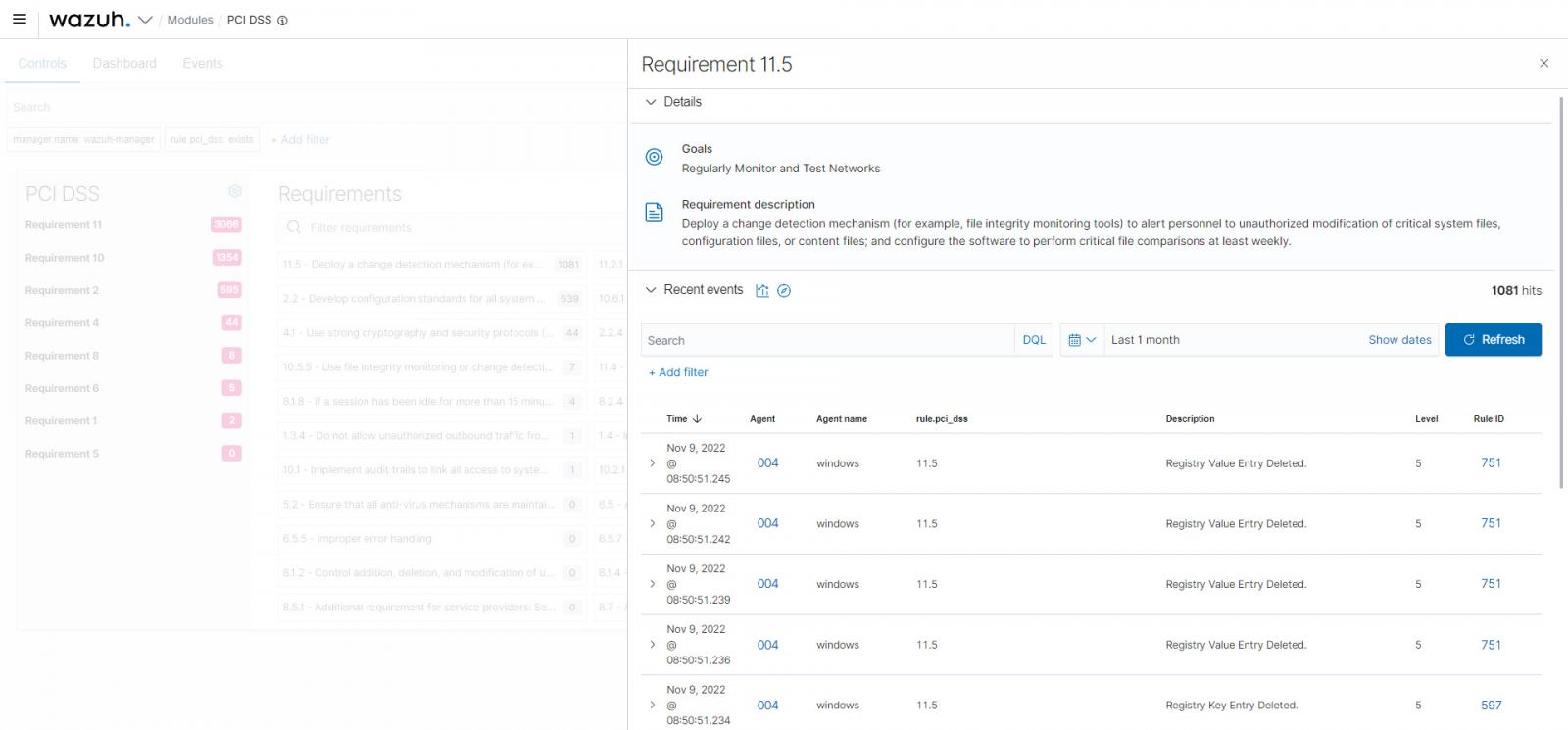 Detailed alert information
Users can see events containing the PCI DSS tag in chronological order from the Wazuh dashboard. This helps to determine the sequence in which events occur and their possible impact on the organization's compliance status.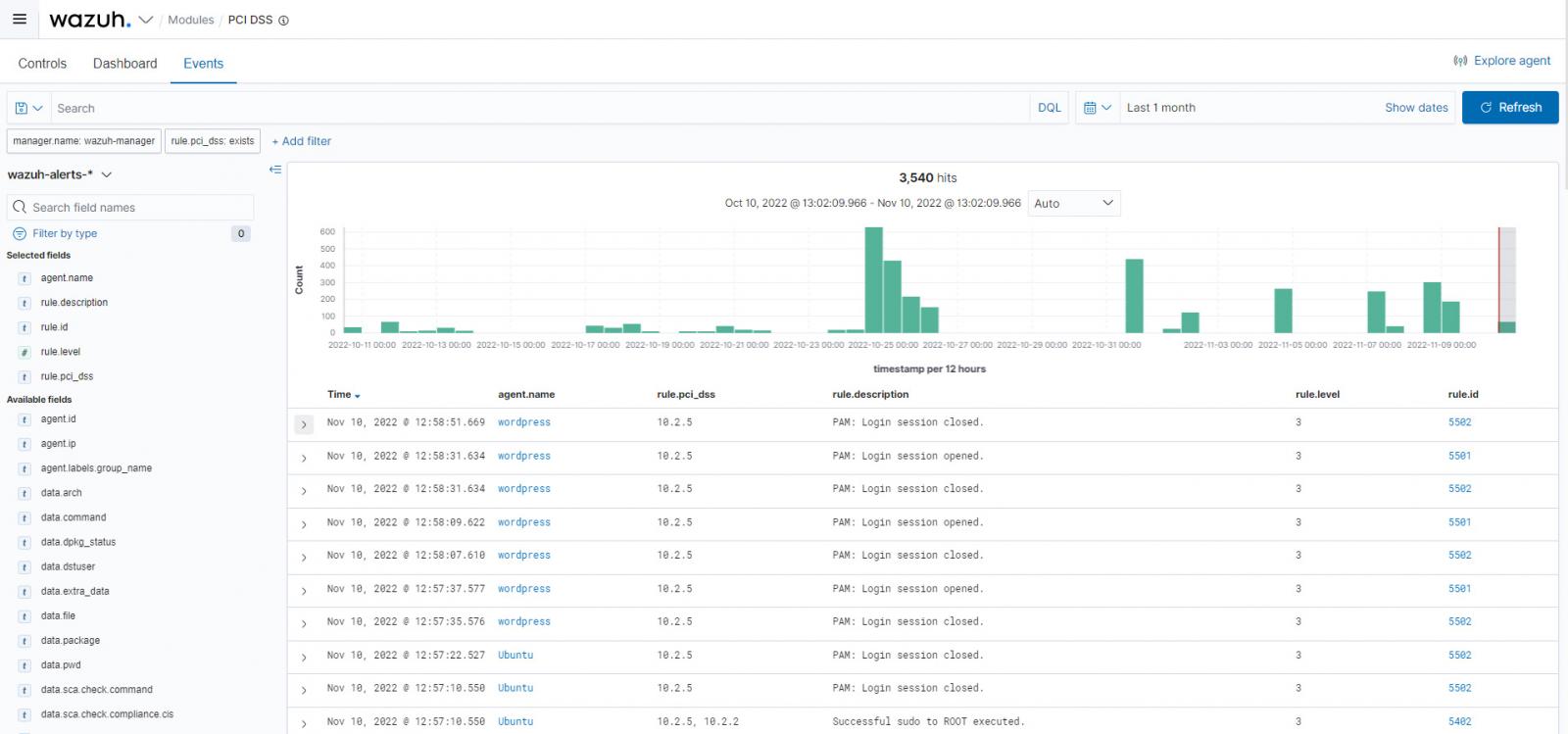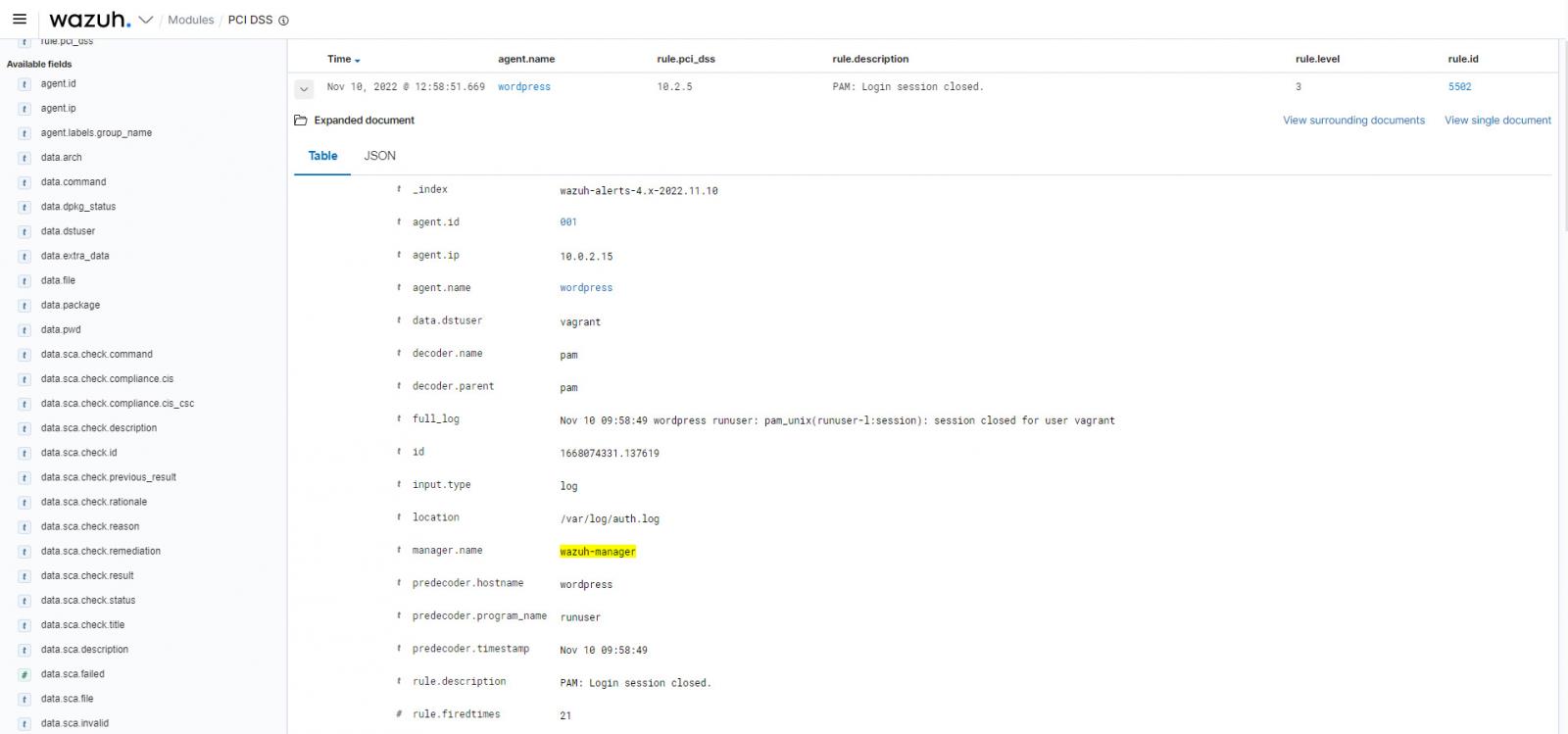 Reporting PCI DSS compliance levels
PCI DSS requirements include completing a report on compliance (ROC). Wazuh can generate reports to provide information on the PCI DSS compliance levels of endpoints. This feature is available on the PCI DSS module dashboard.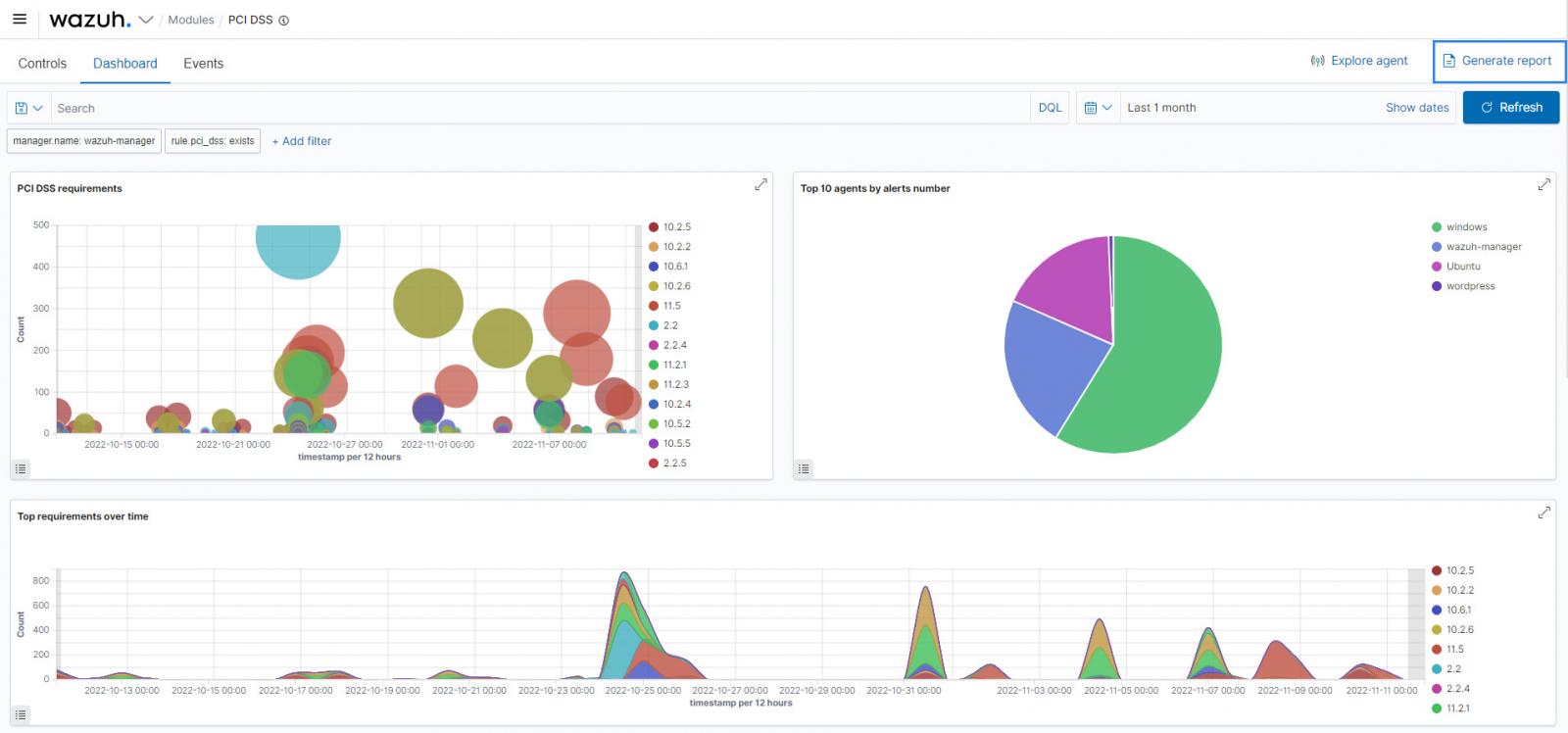 The generated report provides details on the requirement violations detected, the monitored endpoint on which they occurred, and the rules that triggered the alert, among other information. This report helps provide a benchmark to be used in completing the required ROC.
Conclusion
PCI DSS is a requirement for any organization handling cardholder data. Wazuh offers an easy way of gaining insight into the compliance state of endpoints in an environment and the resources to meet and maintain PCI DSS compliance requirements.
Additionally, Wazuh has a large open source community of users offering product support and tips.
To start exploring Wazuh, you can use the Quickstart guide to quickly deploy Wazuh or use the on-demand Wazuh cloud service.
Sponsored and written by Wazuh