Scamadviser is a web tool that can be used by fraud and cyber analysts to look up domains to check whether they are legit or part of a scam.
Today, we are introducing the Scamadviser data integration and data subscriptions, bringing its scam analysis of millions of websites into Maltego!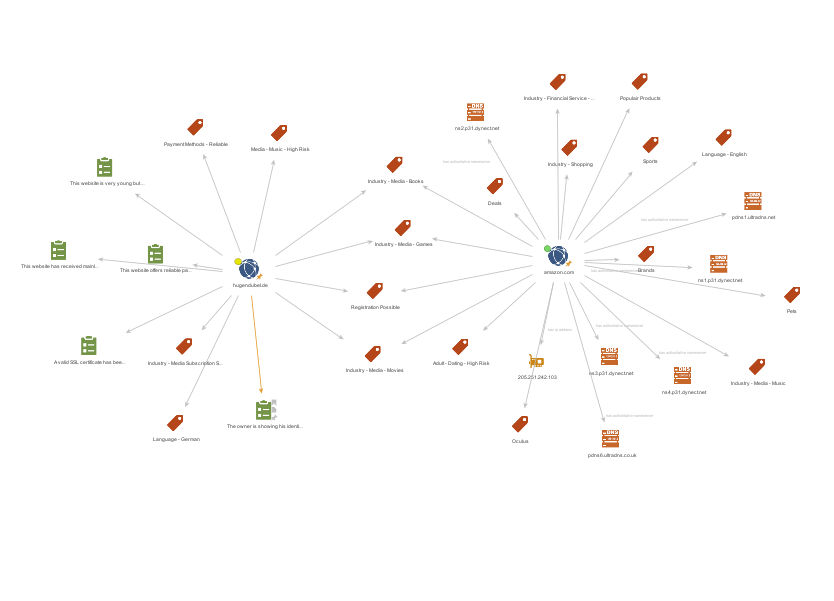 What is Scamadviser? 🔗︎
Scamadviser is a website that helps over 3 million people every month discover whether a website is legitimate or a possible scam. The website was founded in 2012 by Marc, who once bought golf clubs online and quickly discovered they were fake. He tried to get his money back to no avail. Out of frustration, he started Scamadviser to help online shoppers make more informed decisions before buying online.
Scamadviser also helps with online shopping decision-making by rating websites with the Scamadviser Trust Score. Trust Scores are generated by an analysis algorithm which utilizes more than 40 data sources—from the IP address of the webserver and the availability of contact details on the website, to the age of the URL, ratings on review sites, and much more.
The Scamadviser database has proven to be useful not only for ecommerce consumers looking to avoid scams, but also for law enforcement agencies, brand protection organizations, and cybersecurity analysts uncovering scam networks, identifying intellectual property violations, or hunting for threats.
Scamadviser Data in Maltego 🔗︎

We are proud to announce the release of the Scamadviser Hub item, which includes integration to its full solution. The data is provided in two ways:
Passive Checks: Scamadviser passive checks only return data of the domains already analyzed by Scamadviser in the past 30 days.
Active Scans: Scamadviser active scans return data for all request domains, including domains not yet analyzed or domains whose data is older than 30 days.
Using the Scamadviser Transforms, investigators can retrieve the following information:
Trust Score: Rates any domain based on more than 40 datapoints with a trust score from 1 (very, very likely a scam) to 100 (very likely legit).​
Block Search Engines: Check whether the domain blocks search engines. A large percentage of sites search on Scamadviser cannot be found via search engines.​
Consumer Reviews: The average number of stars and total number of reviews found on external review sites such as Google Shopping.​
Trust Rules: Explains why a domain has been given a certain rating.
Redirected Domains: A list of domains linking to the domain being investigated.
Meta Data: Such as the title, description and keywords used.​
IP Data: The IP address on which the domain is hosted, related ISP, hosting country and number of domain names on the server which are considered suspicious versus the total number of domain names
Tags & Keywords: Narrow your search by looking up keywords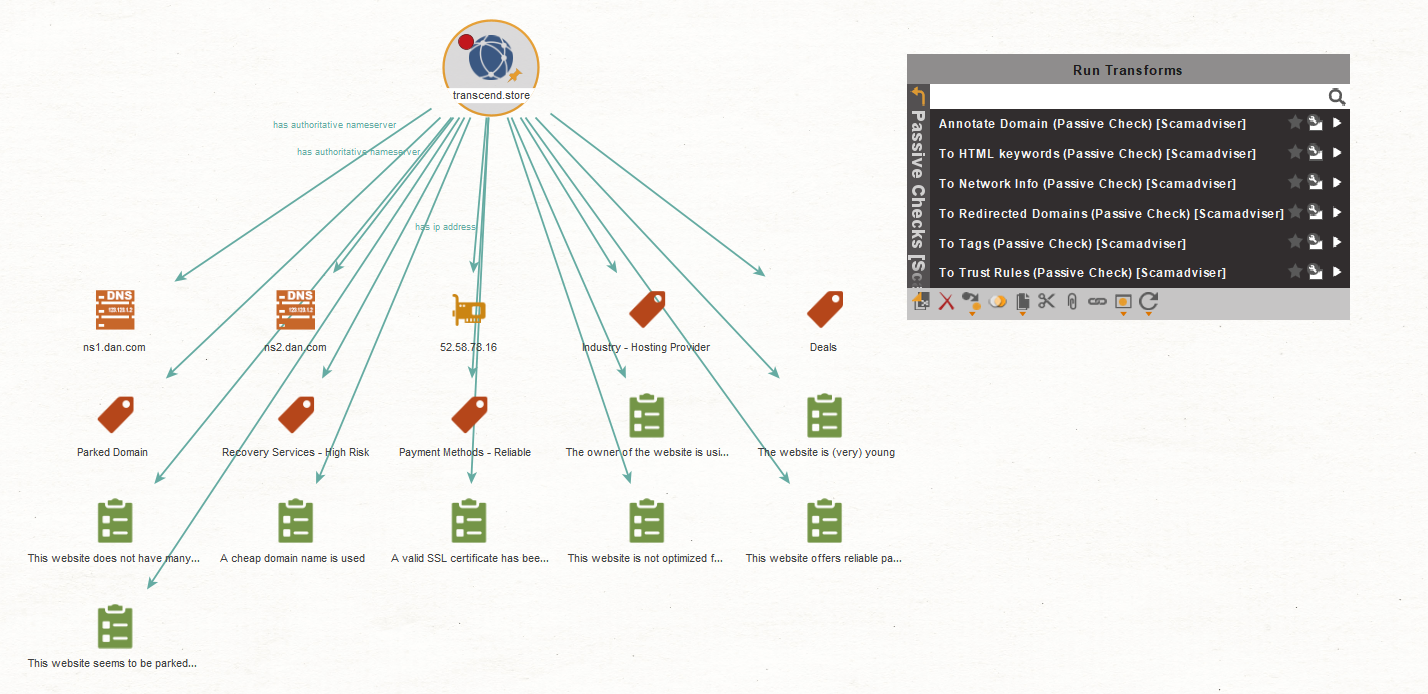 How to Access Scamadviser Data in Maltego? 🔗︎
There are two ways to access Scamadviser data in Maltego: Free trial and data subscriptions.
Free Trial for Scamadviser 🔗︎
The Scamadviser integration offers a free trial for both Maltego community and commercial users with the following Transform allowances:
Maltego CE: 10 active scans and 50 passive checks
Maltego Pro: 25 active scans and 100 passive checks
Maltego Enterprise: 50 active scans and 200 passive checks
Simply install the Hub item on your Maltego Desktop Client and start exploring the Scamadviser data right away!
Data Subscriptions for Scamadviser 🔗︎
The Scamadviser data subscriptions provide a flexible and affordable access option to the Scamadviser full solution. With the Scamadviser data subscriptions, investigators can retrieve data with both passive and active queries.
Maltego offers five data subscriptions for Scamadviser, starting at 100 USD with 500 Transform runs per month!

Learn more about the Scamadviser data subscriptions on the integration detail page. Visit our webshop to purchase our Scamadviser data subscriptions.
Start Using the Scamadviser Transforms in Maltego to Spot and Fight Online Scams! 🔗︎
We hope you enjoy the Scamadviser Transforms! Stay tuned for more use cases, tutorials, and webinars demonstrating the Scamadviser Transforms in the coming weeks—We will announce them on Twitter and LinkedIn and if you sign up to our email newsletter, you will get a notification in your inbox.
Happy investigating!