At Maltego we strive to make it easier for investigators to access all types of data in a single interface. The Maltego Transform Hub is continuously growing, providing investigators a broad range of relevant data sources at their fingertips. However, navigating all the different Hub items and access options available in the Transform Hub is not always a trivial pursuit.
So, let's unpack the Transform Hub and help you make the most of the data we have made available for you!
Free Data and Maltego Click-and-Run Data Allowances 🔗︎
The data integrations available differ according to your subscription plan, namely free (Community Edition), Pro or Enterprise. The best part is that your subscription plan comes with a number of relevant out-of-the-box integrations, whether for free or with an included allowance for free trial. For these integrations, all you need to do to get started right away ("Click-and-Run") is install the Hub item. Furthermore, we have integrated many data sources that require an API key that can be obtained for free from the data provider.
Maltego Data Subscriptions, Bring your Own Key, or Purchase Separately 🔗︎
If the data you want is not included in your subscription or if the included allowance is not enough to meet your needs, you also have the option to purchase access to these integrations at the desired volume. You can either buy a flexible data subscription in our web-shop or get in touch with us if you want to get full access to the provider's data or solutions. Learn more about our data subscriptions here.
Finally, if you are already a customer of a data set with a Maltego integration, you can simply plug in your API key in Maltego to use it.
So which data integration is included in your plan? 🔗︎
In the table below, you can see the data access options available for each subscription plan.
You can find a full list of the data integrations and all their access options here.
On our Transform Hub page, you can also simply use the filter functionality for "Pricing" and "Available For Licenses" to see which data integrations are available for you.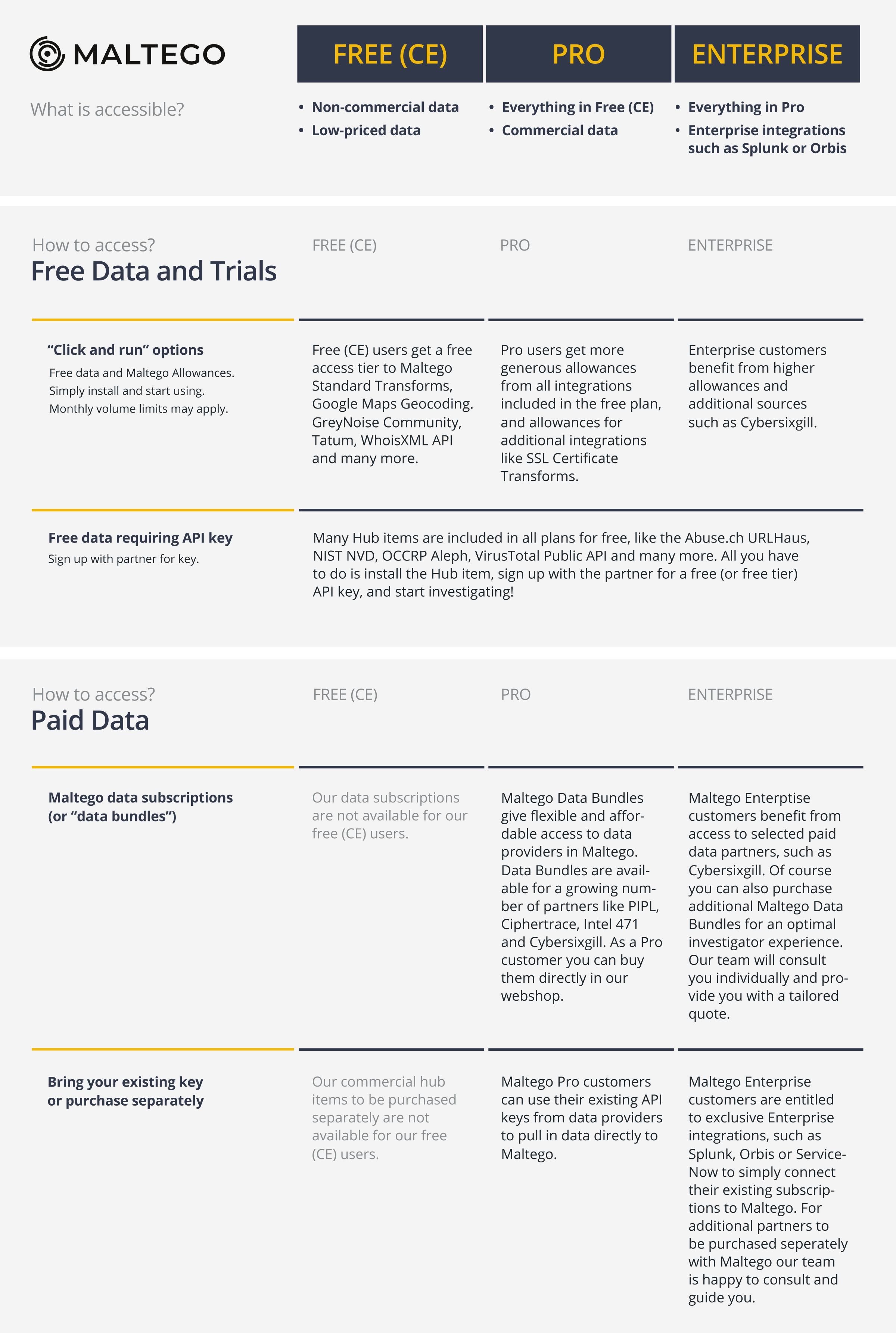 Do you have any questions about our data integrations? Would you like to see a specific data source on the Transform Hub? Do you have feedback for us? Reach out to us using this form.
Are you a Data Provider? 🔗︎
If you would like to reach new potential audiences by leveraging the large global Maltego user base, become a Maltego data partner and make your data easily accessible to investigators worldwide.
Stay tuned to our latest product updates by following us on Twitter and LinkedIn or subscribe to our newsletter!