As an OSINT graphical link analysis software, Maltego has been integrated into the investigative workflows of small teams and enterprises in a wide range of application areas, such as cybersecurity operations, law enforcement, trust & safety, investigative journalism, and more. In fact, 19 of the Dow 30 companies rely on Maltego for faster and more comprehensive investigations.
Of course, such rapid, steady growth cannot be achieved without stellar teams in Sales, Revenue Operations, and Business Intelligence. They are the front line of Maltego's business development and form the strong backbone of our strategy planning.
Student Business Developers are a driving force in this exciting growth phase. While having the flexibility to stay engaged in their studies, they also gain real-life, hands-on working experiences in Maltego.
A Typical Day for Maltego Student Business Developers 🔗︎
Student Business Developers at Maltego are instrumental in supporting our day-to-day customer-facing business operations and internal data analysis activities.
In this infographic and interview, we give you peek behind the scenes and show you what a typical day in the life of Maltego Student Business Developers looks like, including tips and insights from our hiring managers.
Get it from the Source: Interview with Hiring Managers from Sales, Revenue Operations & Business Intelligence 🔗︎
Q1: What is a Student Business Developer and how would you describe this role? 🔗︎
Student Business Developer is a supporting role for different teams and business operations at Maltego, ranging from Sales, Revenue Operations, or Business Intelligence teams, depending on their skills and areas of interests.
Q2: What are the regular tasks and responsibilities of a Student Business Developer? 🔗︎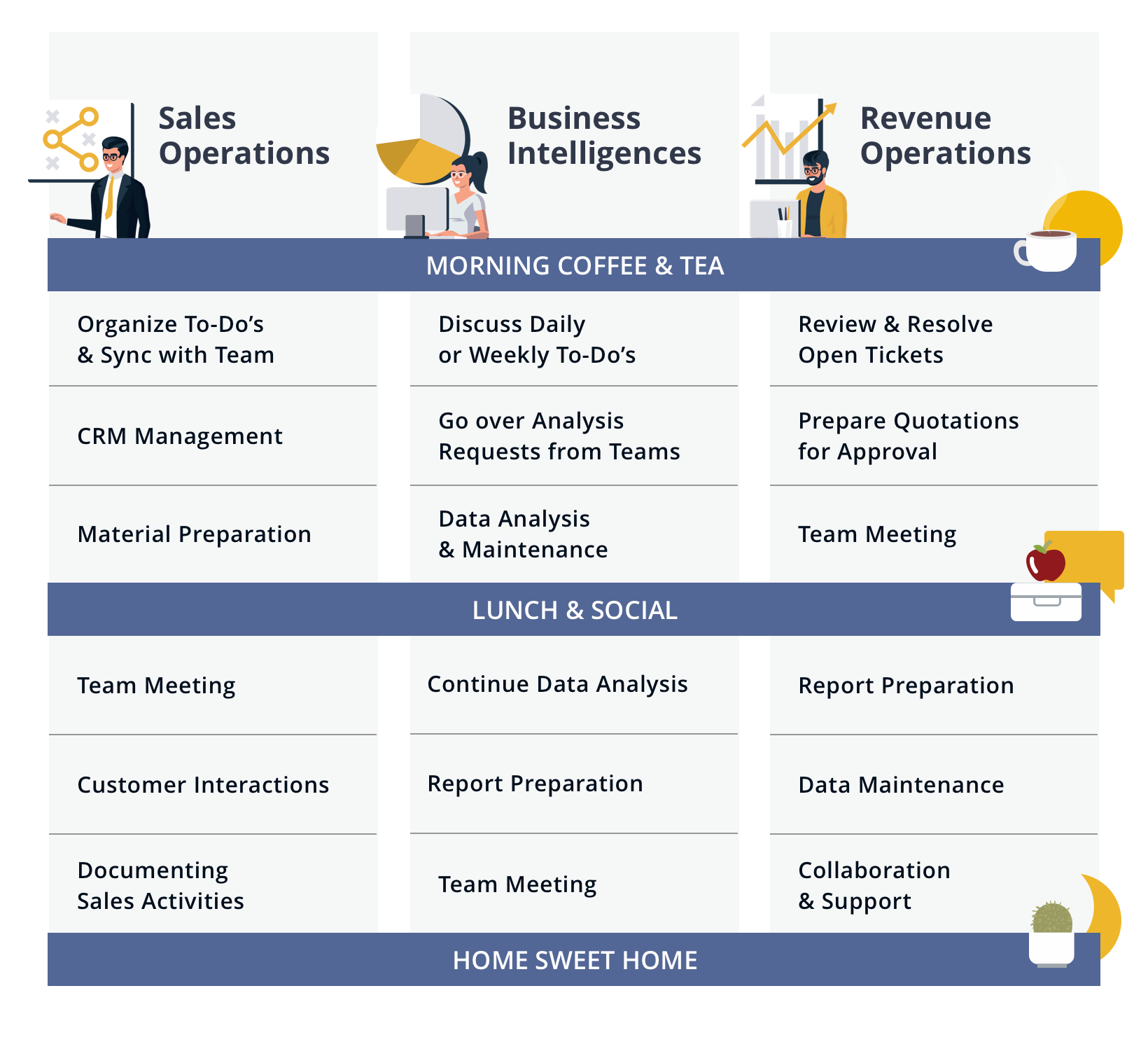 Student Business Developers contribute to Maltego's day-to-day business operations.
In the Business Intelligence team, they conduct data analyses and prepare reports to help other teams understand and answer questions related to business performance. They are also responsible for organizing and cleaning data.
In the Revenue Operations team, Student Business Developers create and maintain our master data, prepare quotations and regular reports, and engage in follow-ups of orders and conversations with external stakeholders.
Finally, Student Business Developers in the Sales team support customer outreach, presentation preparation, and sales reporting.
Q3: What is the daily or weekly activity breakdown for a Student Business Developer on your team? 🔗︎
In Business Intelligence team, the breakdown is 60% data analysis, 20% team reporting and meeting, 15% cross-team support, and 5% project management.
In Revenue Operations team, the breakdown is 35% quotation and order support, 30% query follow-up, 30% meetings & reporting preparation, and 5% master data maintenance.
In Sales team, the breakdown is 30% customer interaction, 20% material preparation, 20% CRM management, 15% team meeting and collaboration, and 15% reporting.
Q4: What tools does a Student Business Developer work with on a regular basis? 🔗︎
In the Business Intelligence team, they work primarily with tools like Snowflake, Matillion, Power BI, Excel and Powerpoint.
In Sales and Revenue Operations, they work with our CRM tool and internal business systems on a regular basis.
Q5: What are the most important requirements or personality traits of a Student Business Developer? 🔗︎

As a Student Business Developer, you should be detail-oriented, communicative, and organized. Having a problem-solving and logical mindset is crucial. You should also be comfortable with numbers—no need to be a math genius—and have a humorous nature to help you through challenges and obstacles with a good laugh.
Q6: What skills will a Student Business Developer most likely learn during their time in Maltego? 🔗︎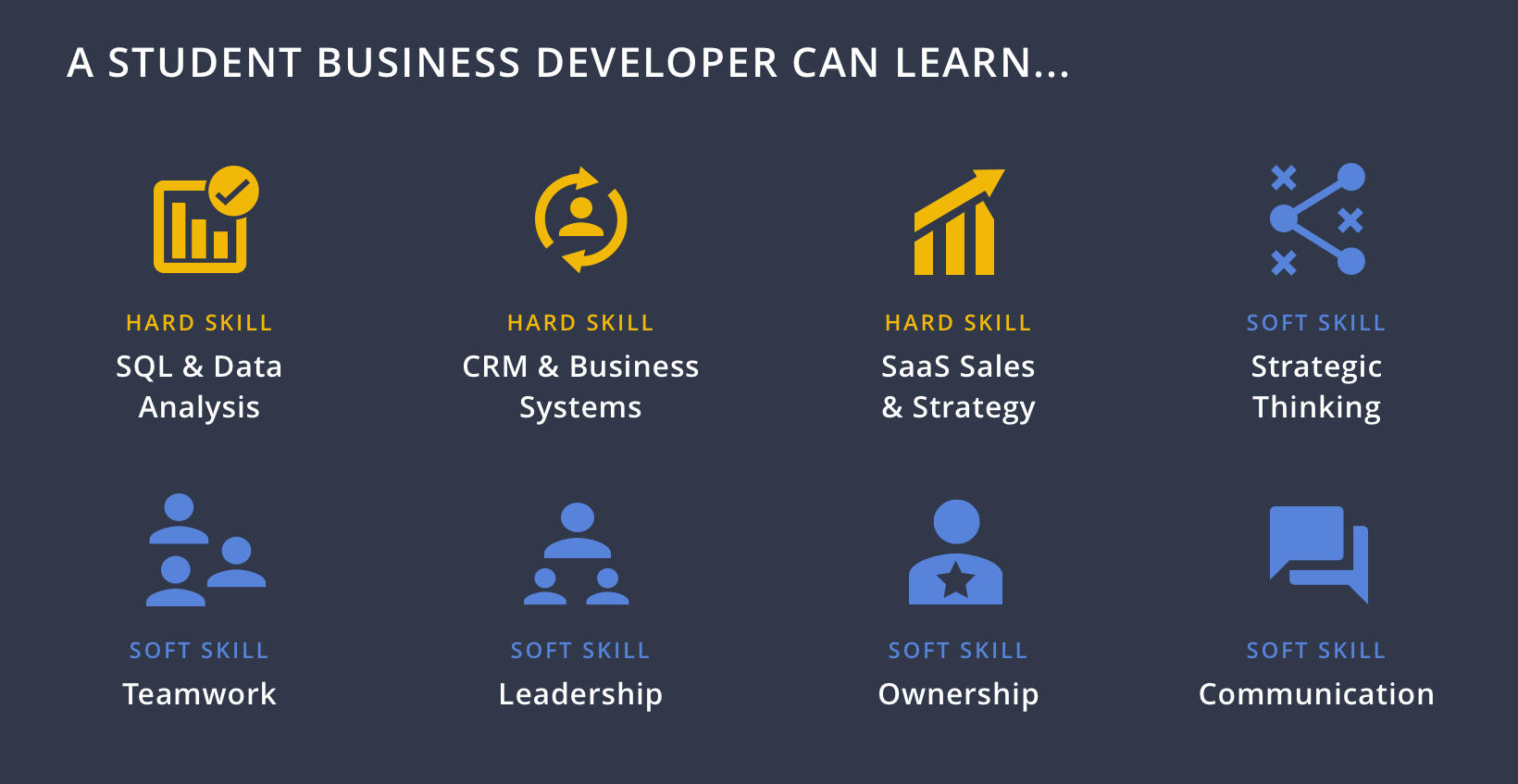 Maltego Student Business Developers have the opportunity to work with a tech product and learn about SaaS development.
In the Business Intelligence team, they can hone their Excel expertise and gain a good understanding of SQL. Those who work with Sales and Revenue Operations teams grow familiar with various business systems and develop confident, to-the-point and persuasive communication skills.
Teamwork, flexibility, ownership, and responsibility are essential values they also gain from their working experience at Maltego.
Last but not least, they have the opportunity to learn how to use Maltego and run various investigations leveraging different powerful data integrations!
Q7: How does the working experience at Maltego benefit our working students? 🔗︎
Working at Maltego presents an opportunity for students to learn about the rapidly growing cybersecurity and infosec industry and the trends within. Working students in Maltego get a real feel for what a professional job is really like, in a truly international environment—Fun fact, there are more than 11 nationalities at Maltego!
Instead of completing lower level tasks and being mere "observers" in the company, the experiences they gain is hands-on and operational. In particular, soft skills like communication, ownership, and leadership that are difficult to be taught can be developed while they learn and tackle challenges and become an integral part of our daily operations.
Q8: What type of career path can a Student Business Developer in Maltego grow into and how does Maltego support them? 🔗︎

What doesn't kill you makes you stronger. Our Business Intelligence team creates an effective growth environment by throwing increasingly challenging tasks at Student Business Developers, who can eventually grow into becoming data analysts or data engineers.
If they enjoy being engaged with customers, there are possibilities to grow into a support role within Sales or Revenue Operations.
The opportunities are truly endless. A Student Business Developer can really grow into any role at Maltego because we take the students' interests into consideration and support their goals as much as possible. Maltego looks at the bigger picture of where the student wants to go in their careers, and we strive to make it happen.
We're Hiring! Kickstart Your Career by Joining Maltego as Our Student Business Developer 🔗︎
We are looking for motivated interns or working students to join our business operations teams!
Interested in the job position? Check out the job opening on our career page and apply online now!
If you have any question regarding recruitment and openings at Maltego, please reach out to jobs@matlego.com.
Feel free to download this infographic in PDF to share with your friends, family, and colleagues!